Last week I wrote about having attended the Fall 2015, Global Family Business Event hosted by the Lawrence N. Field Center for Entrepreneurship at Baruch College, where I heard a talk by Lena Jungell, a fourth-generation member of The Fazer Group.
An international, family-owned-and-run firm based in Finland, The Fazer Group proudly produces top-of-the-line bakery, confectionery and biscuit products as well as food and café services
Lena spoke about one of the essential components of family-business success and longevity, "The Development of an Owners' Vision" Today I will write about two other equally important components–values and mission.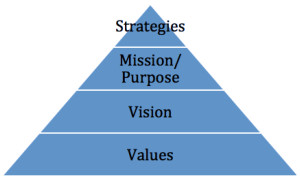 To clarify what I mean by these three terms: Your vision is something you can see as a result of your efforts. Your mission identifies the action of achieving the vision. Values are those qualities, behaviors and points of view that a family holds to and deems important for the guidance of its members and its business.
In working to fulfill its mission —To Create Taste Sensations–guided by its vision–responsible business growth with a strong focus on long-term development–the Fazer Group stands firm on the bedrock of its values: Passion for the Customer; Quality Excellence, and Team Spirit. http://www.fazergroup.com/about-us/we-create-taste-sensations/
These values are the basis of all of their corporate strategy processes, ethical principles, responsible environmental standards, management systems and more. http://www.fazergroup.com/responsibility/our-responsibility/
This solid footing along with open articulation of their values is, no doubt, integral to the Fazer Group's success as a thriving and growing sixth-generation family business looking into a prosperous future. As such, The Fazer Groups is a real-life illustration that demonstrates the long-term possibilities inherent in family businesses.
Next week I'll write about the evolution of the Fazer-Group from its first generation into its sixth, and explore its business- and family-governance structures.